I need care, what are my choices?
You have a loved one with dementia and, if not now, eventually you will need help. Choices are always easier when you know your options so let's discuss what is available and how to find care.
Let's break it into two basic types of care…in-home and facility care. Remember, nothing is written in stone, your care needs will change and so will your options. Most families will opt to begin care with in-home, part-time assistance. This may work for you indefinitely, but if more care is needed, you should have a good grasp of what is available to you and your family.  Before you begin your search, let's define these choices:
home health agencies,
residential services agencies,
unlicensed companion services, and
family members or independent contractors.
Let's do an overview of each:
Home Health Agencies are regulated by the federal government and require a "certification of need" and referral from a physician to provide care at home. They offer short-term skilled care including Physical Therapy, Occupational Therapy and Social Services. This referral may also include home health aides who provide personal care for a limited time only. Historically this means a C.N.A. visit of up to 2 hours to assist with bathing twice a week. These programs must participate in the Medicare program and usually require a three or more day stay in a hospital before qualifying. Many insurance programs cover this service for a limited amount of time. This service is aimed at assisting you to regain your health after an illness or injury. A health care plan must be strictly adhered to and updated every 60 days.
Residential Service Agency (RSA): Residential Services Agencies are licensed and regulated by the State of Maryland Dept. of Health and Mental Hygiene.  RSAs provide:

1) supportive companion and household services (assistance with grooming, light housekeeping, household services, meal preparation and cleanup, shopping, running errands, and providing companionship)
2) more skilled, personal care (bathing, toileting, feeding, transferring, dressing).

RSAs must concentrate on ONE skilled service only (nursing OR physical therapy OR medical equipment, etc.) and therefore are very focused/experienced in that particular area.  RSAs undergo a rigorous licensing process through the Dept. of Health Care Quality in the State of Maryland.  Any skilled nursing functions must be under the direction of the RSA's registered nurse, who develops a plan of care and ensures that the caregivers are appropriately skilled to follow it.  RSAs are primarily private pay but most accept long term care insurance.
Housekeeping/Companion Services: Any companion/homemaker company that is not licensed by the Dept of Health and Mental Hygiene is not allowed to provide hands-on care.  No toileting assistance, no bathing, no hair or oral care…the caregiver can provide no care requiring physically assisting the client with activities of daily living. They may provide grocery shopping, housekeeping, and general entertainment activities only. Many "concierge" companies fall into this category.
Independent Provider: A caregiver whom you hire privately is referred to as an independent provider. You are required by law to withhold and deposit federal and state income taxes, Social Security and Medicare taxes from their paycheck.  You also are required to contribute the employer match of 7.65% of their taxes and deposit this accordingly as well.   Independent caregivers must purchase their own professional liability insurance.  Their experience and certification levels are between the two of you, and they have no responsibility regarding qualifications unless they are a state-licensed health care professional.  Any continuing education or skill classes are the responsibility of the independent caregiver, and they have no supervision under a medical professional. Before hiring an independent contractor verify active license status by going to the Maryland Board of Nursing website.
For many families, these options are useful for years before facility care becomes necessary.  For others, a facility is more appropriate for the care of your loved one from the outset. Let's explore the options for out-of-home care.
Assisted Living: A place to reside independently, typically in private rooms with meals and activities for entertainment provided by a staff. Your application will be reviewed, and an assessment done to determine which level of care is needed. While you may need some assistance with hygiene and other activities of daily living, residents are required to have limited health concerns requiring limited daily medical attention. Facilities provide RN oversight which can include medication management and emergency attention if needed but are often staffed by LPNs. Assisted living can be provided in group homes and larger facilities. Both provide safety and security for our elders. Assisted Living promotes socialization and independence by facilitating new hobbies and friendships.
Nursing Home Care: An appropriate, comprehensive placement for those with daily medical needs, secure memory care assistance, OT, PT; speech & language and other specific needs. 24/7 RN staffing is required with access to pharmacists and physicians on regularly scheduled visits. The residents must be under the care of a personal physician as well. Nursing homes often provide support to families and residents through religious services, residential and family councils as well as hospice and palliative care options. Entertainment activities are provided comprehensively or al la carte in the pricing options Typically, residents are living in shared living quarters with the primary focus being preserving residents' health and safety, not promoting new hobbies and friendships.
The cost of these options varies widely. You should know that Home Health Services are covered by Medicare, but Residential Services are not. Residential services are strictly private pay unless you purchased a Long-term Care Insurance Policy prior to needing care. However, if you are considering purchasing a policy, be sure to review your options with a licensed provider and compare policies across the board to choose the best option for yourself or your loved one.  These policies rarely cover the full cost of care and fall far short of covering the cost of 24/7 in-home care.  You should also know that in-home care can be tax deductible but the parameters for this are carefully constructed and should be reviewed by a professional tax accountant.
So, when should I chose a care option? That answer is different for each family. Here are some things to consider that might assist you with choosing the right timing to begin the process of asking for help:
You find medical procedures have become too involved
You are feeling overwhelmed with anxiety, depression, anger, or frustration
You find your reactions are becoming irrational
You are feeling isolated
You have stopped doing things you enjoy
You find you are not eating or sleeping properly
You never have time to relax or time to yourself
You want to reestablish yourself as spouse/child/partner again and not just a caregiver
The decision is a personal one. It is rarely an easy one. However, you are not alone, and you have the right to counseling to assist you with your decision. It is always good to know your options so that when the time comes you can sit with your family and make the choice that is right for you, your loved one and your family.
For a more in-depth discussion, feel free to reach out to me.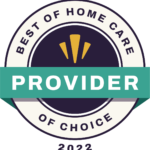 Kathryn C. Rogers
410-357-9640